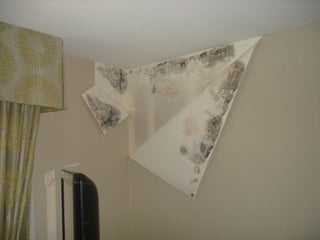 What should you know about mold assessment and remediation in indoor environments in New York State (NYS) as of January 1, 2016?
The presence of mold growth, water damage, and/or malodors should not be ignored and should be addressed as soon as possible.
If you are going to hire someone to investigate a mold condition you must hire a NYS licensed professional known as a Mold Assessor. A Mold Assessor is required to assess the extent of any moisture problem and subsequent mold growth. They then develop a Remediation Work Plan if the mold contaminated area exceeds ten (10) square feet in size.
If you hire someone to remove the mold, you must hire a NYS licensed Remediation Contractor. The Contractor will follow the Remediation Work Plan and remove or clean mold-damaged materials using best work practices that protect occupants by controlling the dispersion of mold from the work area and protect remediation workers from exposures to mold.
Molds are ubiquitous in nature. In an indoor environment, hundreds of different types of mold are able to grow wherever there is moisture and food source. Mold can grow on porous building materials and non-porous building materials that may be painted or coated with paint or debris. Building material and surfaces that could be contaminated include: drywall, ceiling tiles, floor tiles, fiberglass insulation, carpeting, furnishing, wood products, paint, wallpaper, HVAC ducts, concrete etc. It is impossible to eliminate the presence of all indoor fungal spores and fragments, however, uncontrolled visible or hidden mold growth indoors can and should be prevented and remove.
A New York Licensed Mold Assessor can legally perform Mold Assessments in the State of New York. These types of invasive or non-invasive visual inspections often involve moisture surveys, thermal imaging surveys, and possibly mold sampling of air and/or surfaces within the area of concern or the entire property.
A New York Licensed Mold Assessor may also hold a Mold Remediation Contractor License, however, they cannot be designated to perform both assessment and remediation on the same project in order to avoid a conflict of interest.
A NYS Licensed Mold Assessor is responsible for:
Identifying source(s) or cause(s) of the presence of water or moisture.
Assessing the size of the affected area (square feet) utilizing appropriate monitoring and detection equipment.
Considering the possibility of hidden mold.
Investigating areas associated with occupant complaints.
Noting type of water-damaged materials (drywall, carpet, ceiling tiles etc.).
Checking inside air ducts and air handling units.
Creating a remediation work plan for the client and contractor.
Ensuring that the remediation work plan is followed.
Conducting a final clearance testing and assessing conditions for occupancy after water restoration or mold remediation activities are completed.
A NYS Licensed Remediation Contractor is responsible for:
Establishing containment, including setting up air negative machines to prevent the release and dispersion of mold spores to areas outside of the affected building space. Containment of the work area is not necessary if the area affected by mold does not exceed the total of ten (10) square feet (small work area).
Controlling mold contamination, as close to the source as possible, by taping polyethylene sheeting or using self-adhering plastic on the moldy surface(s) or material(s) before removing; and/or wrapping, bagging, and securely enclosing moldy contents or materials in 6-mil poly or comparable packaging. Also, sealing supply and return air vents, doors, chases, and risers within the containment, as directed by the Mold Remediation Work Plan.
Ensuring that all workers inside of the containment are equipped with a personal protection equipment during the mold remediation activities.
Recording and documenting all activities and services performed in response to the mold problem.
Completing the project in a manner which complies with NYS mold remediation regulations, policies and procedures.
Emilcott's Indoor Environments group has a team of licensed Mold Assessors ready to help guide you through this process. Please contact us for additional information or to schedule an assessment.
Written By: Rich Andrejkovics, CHMM. & Adrian Czyzewski, CHMM.