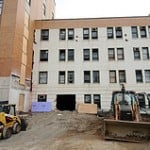 Daniel Senatus
A construction and renovation project within any facility creates a range of situations which can release debris, pollutants and contaminants that can impact the indoor air quality. These contaminants may be transported to other areas via HVAC systems, personnel coming and going through encapsulation barriers, and other factors that can subsequently affect people beyond the project area. Consideration of the effect upon indoor air quality is particularly important in healthcare settings when performing construction or renovation projects. Under these conditions, patients and other people with existing health problems that are in the hospital for treatment are at increased risk of contracting nosocomial infections.
Planning and Administrative Controls
All hospital construction projects must go through an Infection Control Risk Assessment (ICRA) to determine the impact of the project on patient care. The ICRA process is usually lead by the Infection Control staff with additional input from the construction company, engineering, and safety managers.
See ICRA Sample here.
Advance planning by all project managers, combined with proactive communication efforts, can successfully allay concerns during and after construction activities. Healthcare facilities must consider other factors that may be a potential hazard as a result of the project and then determine the controls that must be put in place to mitigate them. Other critical factors include knowing what areas will be unusable for the extent of the project, and the time of day that will minimize disruption of services (which is variable depending upon whether it is an ambulatory or inpatient facility). It makes sense that most construction in hospitals should be done in a part of the hospital that is not operational or is vacant.
Hazards to Consider
PM (Particulate Matter)
Construction and demolition activities may introduce particulate matter such as dusts and fibers into an environment. Most concerning is respirable dust; these are dust particles that are small enough to bypass the body's natural defense and clearance systems (mucous, cilia) and not trigger the coughing reflex which is the body's way of removing mucous and foreign material from the lungs and upper airway passages. Once these particles get deep in the lungs, they are more likely to be retained and can lead to a whole host of health issues including altered lung function, lung cancer, and even heart problems later on.
Biological Hazards
Construction and demolition of materials may contribute to the release of and exposure to a variety of microorganisms: fungi (Aspergillus, Candida, etc.), bacteria, and medical waste. There is also a good chance that animal droppings, insect parts and standing water may be encountered when breaking into areas not normally accessed. Building materials that are constantly damp or wet may serve as breeding grounds for microorganisms. Workers can come into contact with bodily fluids and bloodborne pathogens originating from leaking medical equipment (suction lines, etc).
According to OSHA "
bloodborne pathogens are infectious organisms present in blood that can cause diseases in humans. These pathogens include, but are not limited to Hepatitis B, Hepatitis C and HIV (Human Immunodeficiency Virus), the virus that causes AIDS
." Hepatitis B and C are of the most concern in the healthcare construction and renovation setting because they can survive outside of the body for up to a week in the right conditions. Construction activities can make these microorganisms airborne, affecting the indoor air quality and posing a threat to workers and immunocompromised patients.
Engineering Controls
Typically these are implemented as part of the Infection Control Risk Assessment (ICRA).
Containment
Create a containment barrier with fire-rated 6 MIL polyethylene sheeting around the source and isolate it from other areas of the building so that there is no recirculation of air from the work area into other spaces. HVAC intakes within the containment should be sealed to isolate the containment from general ventilation. Create a second barrier directly outside of the containment barrier (this is considered the "dirty" area) with a sticky mat on the floor, this is where used PPE (personal protective equipment) can be discarded. Create a third barrier (clean area) where clean PPE can be stored; this will actually be the space between the dirty area and the occupied spaces. High traffic zippers should be used on all openings and sticky mats should extend six feet from the clean containment entrance to the occupied areas. These mats should be replaced daily or whenever they look dirty, whichever comes first.
Air Cleaning and Negative Pressure
Use NAM (Negative Air Machines) with HEPA (High Efficiency Particulate Air) filters inside the enclosure. Filters should be changed as needed. Create a negative pressure environment so that lower pressure inside the containment pulls outside air in and prevents the contaminated air from escaping. The NAM should be on prior to construction being started and stay on for the duration of the project whether construction is going on or not. A micro-manometer can be used to verify that negative pressure is established and maintained.
Dust Monitoring and Microbial Sampling
Continuous dust monitoring
outside of the area can help determine the success of the control measures put in place. This can be accomplished using direct reading instrumentation that is equipped with alarms which notify personnel when dust is escaping from the enclosure so that corrective action can be implemented before patients and staff are impacted.
Collecting surface and air samples to evaluate microbiological impacts can also aid in establishing additional preventive measures to protect health and safety of patients and staff.
PPE (Personal Protective Equipment)
Prophylaxes and PPE
Construction in certain places in a hospital can increase a construction worker's chance of being exposed to contaminated waste and bodily fluids.
It is good practice to inoculate personnel with the Hepatitis B vaccine
in addition to PPE if there is enough time before the project (4 to 5 months) or if the construction company does a lot of work in functioning hospitals. The vaccine is given in a three dose series to reach immunity:


Dose #1 – Initial dose


Dose #2 – 30 days after dose #1


Dose #3 – 4 months after dose #2


All PPE selected for construction use at any healthcare facility must be "appropriate" for the task at hand.
OSHA 1910.1030(d)(3)(i)
states that personal protective equipment will be considered "appropriate" only if it does not permit blood or other potentially infectious materials to pass through to or reach the employee's work clothes, street clothes, undergarments, skin, eyes, mouth, or other mucous membranes under normal conditions of use and for the duration of time which the protective equipment will be used.
In damp areas or places with medical waste or other contaminated fluids, liquid-resistant Tyvek suits, gloves, shoe covers, respirators/N95 masks, and goggles should be worn. All PPE must be discarded before exiting the containment area.
Housekeeping
Post-construction cleanup in healthcare facilities is the final stage but is just as important as any other phase. A combination of damp wiping and HEPA vacuums should be used to clean all dusty surfaces. After all trash, dirt, and debris have been removed, wet rags should be used to wipe down all areas within the containment and other areas immediately surrounding it.
Removal of trash may require that the trash be wiped down and clean and/or placed in a covered cart for transport away from the construction site to the waste dumpster so as not to spread contamination in sensitive areas. The renovated or constructed area should be in a sanitary condition before it is turned over to hospital staff. A careful inspection and testing program can aid in documenting the level of cleanliness.
Planning and Partnership
Construction in any healthcare facility is a necessity – whether it is a long-awaited and carefully planned renovation or a response to an urgent problem within the building envelope. In either case, protecting the health and safety of patients and caregivers in the facility and the construction workers can be achieved through planning, communication, and a thorough knowledge of
indoor environmental quality (IEQ) and industrial hygiene (IH) procedures and best practices
. The success of the project is also dependent upon the partnership of the medical staff, management personnel and all the outside resources that will address the problem and ensure that the construction is completed without creating any additional health issues.
If you have any questions about construction or renovation at a healthcare facility or clinic, please comment below or c
ontact us and an Emilcott IEQ specialist
will respond.
References and Further Reading
http://www.ehow.com/list_7716877_statistics-exposure-hospital-construction-activity.html
http://www.cdc.gov/ncidod/eid/vol4no3/weinstein.htm
http://www.mycology.adelaide.edu.au/downloads/Preventing-IFI-Buildings.pdf
Read More