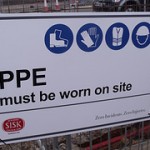 by Paula Kaufmann
When providing guidance on the selection and use of PPE, it is critical for occupational safety and health experts to understand not only the technical issues surrounding the use of PPE as an exposure control method, but also the regulatory compliance burden placed on the employer. I recognize that "just" complying with OSHA standards is not equivalent to meeting industry best practices, but is important to understand the what might be considered the 'back-bone' of PPE programs in the US.
In February,
OSHA announced
the publication of an update of "
Enforcement Guidance for Personal Protective Equipment (PPE) in General Industry
". This update establishes OSHA's general enforcement and guidance policy for its Standards addressing PPE. The PPE Standards had been revised by OSHA in 2007 and 2009. These changes had not been reflected in the former enforcement Instruction.
The updated information provided to the OSHA Compliance Officers is helpful for all of us to review. The revised OSHA Enforcement Guidance spotlights the following:


Employer-provided (purchased) PPE requirements (Who, What, Which)


Clarification of payment requirements for PPE worn off the jobsite, for PPE that must remain at the jobsite, and for employee-owned PPE.


Who:
Employers must provide PPE to all affected employees with an established employer-employee relationship. These employees include short-term employees which may be referred to as temporary employees, piece workers, seasonal employees, hiring hall employees, labor pool employees, or transient employees.
What:
Employers must pay for PPE that is required to comply with OSHA Standards, except in the limited cases specified in the Standards. Employers must provide, at no cost to employees, the PPE that is necessary to protect against the hazards that the employer is aware of as a result of any hazard assessments required and specified in the OSHA standards. An employer must provide, at no cost to employees, upgraded PPE that the employer chooses to use to meet OSHA PPE requirements.
Which:
OSHA is updating the references in its regulations to recognize more recent editions of the applicable national consensus standards, and is deleting editions of the national consensus standards that PPE must meet if purchased before a specified date. In addition, OSHA is amending its provision that requires safety shoes to comply with a specific American National Standards Institute (ANSI) standard.
So – what PPE must employers provide with no cost to their employees? And what PPE are employers not obligated by OSHA to purchase for use by the employees? It can be confusing! The following is a list of examples and exceptions:



t

hose highlighted

in GREEN are "must purchase" items



those highlighted in red are "not required" to be purchased by the employer

.


In most cases, the determining factor for "who pays for the PPE" is whether the PPE is required to comply with a specific standard. The outcome of site-specific PPE hazard assessments will determine what PPE is required. (Some of the exceptions seemed counter-intuitive to me ... what do you think?)
PPE that an Employer Must Purchase (when required to comply with a standard)



Metatarsal foot protection




Chemical resistant boots with steel toes




Shoe covers – toe caps and metatarsal guards




Non-prescription eye protection (safety glasses)




Prescription eyewear inserts/lenses for full-facepiece respirators




Prescription eyewear inserts/lenses for welding and diving helmets




Goggles




Face shields




Laser safety goggles




Firefighting PPE (helmet, gloves, boots, proximity suits, full gear)




Hard hats




Hearing protection




Welding PPE




Items used in medical/laboratory settings to protect from exposure to infectious agents (aprons, lab coats, goggles, disposable gloves, shoe covers)




Non-specialty gloves for protection from dermatitis, severe cuts/abrasions.






Payment is not required if they are only for keeping clean or for cold weather (with no safety or health considerations)








Chemical-resistant gloves/aprons/sleeves/clothing




Encapsulating chemical protective suits




Aluminized gloves




Rubber insulating gloves




Mesh cut-proof gloves, mesh or leather aprons




Self Contained Breathing Apparatus, atmosphere-supplying respirators




Air-purifying respirators




Personal fall protection




Ladder safety device belts




Climbing ensembles used by linemen (for example, belts and climbing hooks)




Window cleaners' safety straps




Personal Flotation Devices (life jackets)




Reflective work vests or clothing




Electric arc and flame-resistant garments



Some exceptions to the employer purchase requirement:
Non-specialty PPE - if the employer allows the employee to wear it off the job site
Footwear
Read More