by Paula Kaufmann
Upcoming TSCA Reporting Period: February 1 - June 30, 2012.
As of August 6, the EPA has finalized the TSCA IUR -- now named the Chemical Data Reporting (CDR) – Rule. There are many changes with the TSCA IUR to CDR … some of these will be in place for the 2012 reporting submission and many more for the 2016 submission.
The final rule adopted many of the requirements included in the proposed rule (see
What are the Changes?
) -- and, thankfully, the majority are not retroactive.
At Emilcott
, we are asking our clients to define what needs to be collected for the 2012 submission period with 2011 as the Principal Reporting Year. If your facility uses chemicals or is an importer who falls under TSCA's CDR guidelines (remember, they've changed!),
your company will need to collect more data and information than that originally planned for the 2011 IUR submission
. The chart below is a bare bones list of the inventory, production volume and use information that needs to be collected for the 2012 Chemical Data Report (CDR). And, as stated earlier, your 2016 submission will have even
more
requirements.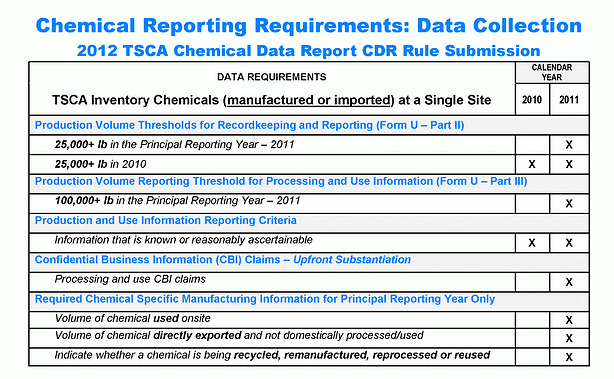 Submit Your Form U Electronically
For the 2012 CDF, all submissions will be required to use the
EPA's free, web-based reporting tool, e-CDRweb, for completion of Form U.
In preparation, the EPA will schedule another informational webinar on the electronic submission tool in late September with beta trials completed by early October. Please ask Emilcott if you will need help with the Form U filing.
Additional TSCA Information
Emilcott has set up an online "
TSCA Resource Center
" and over the next few weeks will be creating a dedicated TSCA landing page to contain all the information related to both the CDR Final Rule and other TSCA New and Existing Chemicals topics. Links to all EHSWire TSCA blogs will also be located there for quick reference.
If you have any questions or would like to consider Emilcott as a TSCA consultant, please give us a call at 973-538-1110 or send an email to
pkaufmann@emilcott.com
Did you miss the TSCA 2006 Form U submission?
You must notify the EPA that you missed reporting for the 2006 IUR within 21 days of your
discovery
. The EPA has an Audit Policy for Self-Disclosure in which drastic fine reduction is possible if the requirements outlined by the Agency are met. This policy is presented on the EPA Compliance Incentive and Auditing web site (
http://www.epa.gov/compliance/incentives/auditing/auditdisclose.html
). If you would like help, Emilcott has been brought in to work with multiple US and International clients with US facilities that inadvertently missed the Form U deadline due to either misunderstanding or ignorance of the regulations. Our advice is to not wait!