Here is a handy table we recently created for our clients — a gentle reminder to get organized! Even if you miss a deadline, it's better to start playing catchup as soon as you find out that you are not in compliance.Want to stay informed? Emilcott publishes a timely email reminder, "EHS Regulatory Submissions", 3x/year to keep our clients informed about upcoming deadlines. If you'd like to subscribe to that newsletter, just go to http://www.emilcott.com/subscribe.asp. If you need help with your Regulatory Submissions, contact Emilcott and ask for either an EHS or Hazardous Materials/Waste consultant.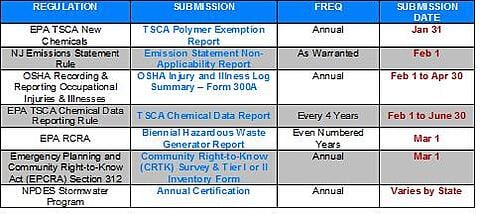 EPA TSCA New Chemicals

Anyone who imports or manufactures a new polymer in 2011 that met the
TSCA Exemption Criteria
must submit a
TSCA Polymer Exemption Report
of manufacture or import
by (postmarked) January 31
of the year subsequent to initial manufacture. The notice must include:


Manufacturer's name. This includes the name and address of the manufacturer and the name and telephone number of a technical contact.


Number of polymers manufactured or imported. The number of polymers manufactured under the terms of the exemption for the first time in 2011 must be identified in the notice.


Learn more about the EPA TSCA New ChemicalsLearn more about TSCA Polymer Exemption Report
NJ Emission Statement Rule
If a facility reported through the Emission Statement rule (N.J.A.C. 7:27-21) in a prior year or was sent a reporting package for this rule by the Department and
now believes it is not subject to Emission Statement reporting because the "Potential to Emit" from the facility is below all reporting thresholds for all air contaminants, the Responsible Official of the facility is required to submit a Notice of Non-Applicability to the NJ DEP by Feburary 1,
and supporting documentation to the Department stating the specific reason for non-applicability.
Learn more about the NJ Emission Statement Rule
OSHA Recording and Reporting Occupational Injuries and Illnesses


OSHA requires employers to post a summary (OSHA Form 300A - not the OSHA 300 Log) of the total number of job-related injuries and illnesses that occurred in 2011. This summary must remain posted from February 1 to April 30, 2012, and a company executive must certify the annual summary indicating that the totals are correct and sign the form.

The summary must list the total numbers of job-related injuries and illnesses that occurred in 2011 and were logged on the OSHA 300 form. Employment information about the annual average number of employees and total hours worked during the calendar year is also required to assist in calculating incidence rates. Companies with no recordable injuries or illnesses in 2011 must post the form with zeros on the total line.

The summary form is to be displayed in a common area wherever notices to employees are usually posted. Employers must make a copy of the summary available to employees who move from worksite to worksite, such as construction workers, and employees who do not report to any fixed establishment on a regular basis.


EPA TSCA Chemical Data Reporting (CDR) Rule
All manufacturers (including importers) of chemical substances with 2011 site-specific production volumes equal to or exceeding 25,000 lb are required to submit a
CDR
with full manufacturing data for calendar year 2011 and production volume only for calendar year 2010. Manufacturers, (including importers) with production volumes at or above 100,000 lb must report processing and use data for these substance for calendar year 2011.
The next CDR submission period for reporting for the 2012 CDR is February 1, 2012, to June 30, 2012.


The purpose of this CDR program, formerly known as Inventory Update Reporting (IUR), is to collect quality screening-level, exposure-related information on chemical substances and to make that information available for use by EPA and to the public. The CDR data are used to support risk screening, assessment, priority setting and management activities and constitute the most comprehensive source of basic screening-level, exposure-related information on chemicals available to EPA.


The CDR regulation requires all companies to report data electronically using e-CDRweb, the CDR web-based reporting tool, and EPA's Data Exchange (CDX) system. Learn more about the EPA TSCA CDR


Biennial Hazardous Waste Generator Report
Large quantity RCRA hazardous wastes generators (LQGs) and Hazardous Waste Treatment, Storage and Disposal Facilities (TSDFs) must submit Biennial Reports every even numbered year for hazardous waste management activities in previous calendar year.
The next Biennial Report form (8700-13A/B) must be submitted to the authorized state agency or the EPA Regional Office by March 1, 2012
for 2011 activities.
The Biennial Report includes information such as the facility's EPA ID number, the name and address of the facility, the quantity of hazardous waste sent to each TSDF in the U.S. and the manner in which the waste was treated during the previous year.
Federal regulations only require large quantity generators to submit the Biennial Report. Small quantity generators (SQGs) and conditionally exempt small quantity generators (CESQGs) are not subject to the federal biennial reporting requirements, but such generators should consult with their implementing agencies since states can have more stringent reporting requirements. To find out state reporting requirements, contact the
applicable state agency
where the waste was generated.
For hazardous waste generated or processed in Connecticut, New Jersey, New York, and Pennsylvania, the Federal reporting requirements should be followed with Federal forms submitted to the corresponding state agency.
Learn more about the National Biennial RCRA Hazardous Waste Report
Emergency Planning and Community Right-to-Know Act (EPCRA) Section 312
Employers who have chemicals listed on the Environmental Hazardous Substance (EHS) list in quantities that exceed 500 pounds at any given time during 2011, are required to complete and submit an annual Community Right to Know Survey. In addition, substances on the federal list of extremely hazardous substances must be reported if they are present at the designated threshold (usually less than 500 pounds), as well as any chemical requiring a Material Safety Data Sheet that is present on site in quantities that exceed 10,000 pounds. This is required by the U.S. Environmental Protection Agency (EPA).
Employers are required to complete and submit the survey by March 1, 2012.
The survey must be submitted to the state environmental protection agency (such as the New Jersey Department of Environmental Protection), and copies sent to the Local Emergency Planning Commission, local police and fire departments, and the local hospital.
Learn more EPCRA