Just as we all take a deep breath after getting the CRTK submissions on March 1 --- now it is time to get started pulling together the information for the next round of submissions. We've pulled together our Spring and Summer submission list. Similar to our 1Q2016 Regulatory Submission Reminder, we detail information about the regulations that require submissions from mid-April through September 2016 along with specific dates to help you ensure that everything is submitted on time!
The extra submission for 2016 is the TSCA Chemical Data Report – with the reporting period from June 1 through September 30, 2016. You'll find a brief description and a timeline listed our mid-year Regulatory Submission Reminder. Please check this out if you manufacture or import chemicals.
For more information and for a more comprehensive outline of each submission and what is required, including links to government pages, download our FREE ebook "Mid-Year Regulatory Submissions Reminder".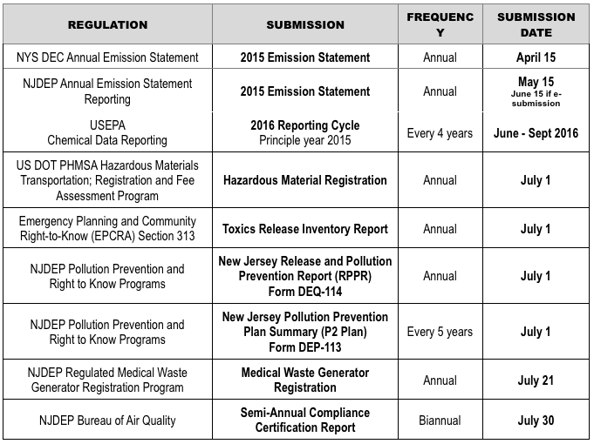 Please feel free to call us at 973-538-1110 to speak to an EHS Consultant regarding any further questions you may have or for help with your regulatory submissions or safety compliance.
Written by Laurie deLaski, CIH.