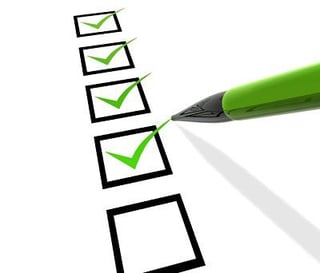 Another calendar year! Where does the time go? After the holiday bustle has ended, my next task is to start gathering up receipts and records for income tax filing. Just like taxes, our businesses face regulatory submission deadlines, reporting data from the past year, including Submission of the EPA Community Right to Know (CRTK) Survey and the Hazardous Waste Biennial Report (or Annual for some states), which are due March 1st. Also on the horizon, is the EPA Toxics Release Inventory (TRI) and the New Jersey Release and Pollution Prevention Report (RPPR) both due July 1st.

Just like holiday gift shopping, the compilation and reporting process is less stressful and yields better results, if I begin early and develop a strategy with deadlines in mind. As such, here is my personal January 1st kick-off list that should make the time-consuming process of CRTK and TRI reporting easier to handle.

1. Start requesting and gathering all the information needed for these submittals:
a. 2015 purchasing records of the chemicals you are reporting
b. 2015 production logs where these chemicals are used
c. 2015 waste information
d. 2015 recycling information for any reported chemicals that were recycled
e. 2015 air emission inventory
2. Develop and write down a comprehensive set of due dates, so you have time to review information as it comes in. If the requested data is late, have a plan to follow up or find another source because the deadline is not going to change!
3. Review the rules early to avoid unpleasant surprises. For example, The Environmental Protection Agency (EPA) on November 23, 201 published a final rule that added 1-bromopropane to the TRI list of reportable chemicals. You can read about it here: http://1.usa.gov/1ZcmC1q.
4. Allow time for anomalies and additional fact-finding. Reported amounts from different sources may not match. If you find that is the case, it is your job to figure out why and that always adds more time to the already challenging process.
Emilcott's clients depend on our environmental knowledge and organizational capabilities to gather the required information on time and give them fair warning if there is trouble ahead. My best advice for successful reporting-don't wait until the last minute. Much like filing your income taxes on April 15th, waiting until February to gather the information for the CRTK or starting in June for the TRI will be stressful and could result in costly errors.
Have you been meeting the CRTK and TRI deadline? If yes, can you offer additional advice or do you have particular steps that you take to get the submission process rolling?
Written by Dian Cucchisi, PhD, CHMM, CPEA.