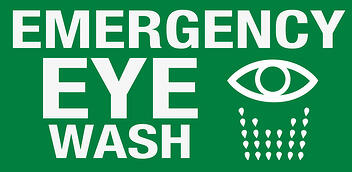 According to Prevent Blindness America, more than 2,000 eye injuries occur in the workplace every day, and one in ten injuries will cause an employee to miss one to 10 days of work. The U.S. Bureau of Labor Statistics estimates eye injuries cost employers an average of $467 million each year. Preventing injury is crucial to the safety of the employee and the productivity of the company.
Is an Eyewash Required?
Under OSHA the general requirements in Section 29 CFR 1910.151state:
Where the eyes or body of any person may be exposed to injurious corrosive materials, suitable facilities for quick drenching or flushing of the eyes and body shall be provided within the work area for immediate emergency use.
However, the employer could be cited for a violation of the general duty clause if the most reasonable predictable injury from such exposure is serious in nature, regardless if the product is corrosive or not.
The American National Standards Institute (ANSI) sets the standard for emergency eyewash and shower equipment. The ANSI Z358.1 standard further clarifies what the minimum requirements for "suitable facilities" are since the Code of Federal Regulations does not offer further documentation. While ANSI Z358.1 is considered a voluntary standard,
OSHA often uses it as a guide when inspecting facilities. As a result, the ANSI Z358.1 standard has gained significant importance within the safety industry. By not complying with the ANSI standard, OSHA may elect to impose penalties from warnings and fines to rare plant shutdowns.
Employers need to refer to product SDSs (MSDS) and/or product labeling to determine what hazards are being brought into the facility, thereby helping to determine what flushing system, if any, is appropriate for those hazards.
To assess risk, employers must perform a walk-through, examining all tasks performed and the risks, including flying objects, hazardous vapors, liquids or chemicals. Even heavy dust can be a potential hazard that may require an eyewash station. Once a thorough assessment is completed, employers should consult both ANSI and OSHA standards to determine if an eyewash is required., and what kind. Consulting a professional during this stage is recommended.
Where Should It Be Installed?
Once an employer determines that an emergency eyewash is needed, ANSI requires that it be available for immediate use and within a 10-second walk. Employers must ensure the path to the eyewash is clear of obstacles, on the same level as the hazard, lighted and clearly marked. Some hazards, such as corrosive chemicals and acids, may require the eyewash to be adjacent.
What About Water Quality?
Water quality and temperature is a huge consideration. Plumbed stations can deliver large amounts of water, but unbuffered water or water that is not pH balanced can cause more damage to the eye. Additionally, since an eyeflush must be 15 minutes, water temperature may become too hot or too cold. According to ANSI, the flushing water must be between 60°F and 100°F. Because of the challenges of using plumbed stations, many companies opt for portable ones. Portable stations often contain saline solution or sterile saline, which ensures safer flushing. Portable units are often less expensive than plumbed stations and require less maintenance. Sealed water cartridges have a typical shelf-life of 24 months. However, portable stations must be maintained and certainly refilled after every use.
Emilcott has been helping clients with hazard recognition and control for over 28 years. We can help you determine whether eyewash stations or portable showers are needed for your operation as well as what type and where they should be placed.