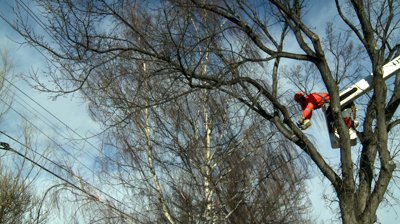 Crazy weather seems to be in the news again—hurricanes, Nor'easters, tornadoes, hail storms and even early snow fall. The tree service industry loves crazy weather, and their service model frequently requires rapid response, particularly when downed trees cause power outages, traffic delays and other issues. Following any such weather event, tree care workers descend, ready to clear debris, trim fallen trees and get us all back up and running! Rapid response still requires safety procedures and two fatal incidents this year prompted OSHA to remind the tree service industry of the consequences of not following mandated safety requirements. Released on June 16, the OSHA Hazard Bulletin addresses how to help prevent injuries and deaths from falls and falling objects during tree care work.
In releasing the bulletin, Dr. David Michaels, Assistant Secretary of Labor for OSHA emphasized, "Too many tree care workers are being hurt or killed by well-known industry dangers that can be prevented if employers take the necessary precautions. Employers have a responsibility to ensure workers are protected on the job—this includes providing training and making sure workers have the right tools to stay safe."
The two separate incidents prompting the bulletin involved a tree care worker killed by a falling object, and another who fell 65 feet to his death when the trunk of the tree he was trimming snapped. In their investigations, OSHA found that the first worker's employer should have prevented him from entering the trimming area, known as the "drop zone". The employer failed to establish a required system of verbal and visual communications that the trimmer could use to inform ground personnel to stand clear when an overhead hazard existed. The second fatality could have been prevented if the employer had performed a preliminary examination of the tree—or a hazard assessment—before work began.
The Hazard Bulletin stressed 12 required standard procedures to prevent injuries under these guidelines:
Perform an assessment. Before work begins, the site should be assessed for all hazards associated with falls and falling objects. A qualified arborist should assess the trees to determine their stability and identify possible hazards related to tree structure.
Determine and use the appropriate equipment and methodology. Should workers climb or use aerial lifts? What other safety equipment is needed for this particular job?
Establish protocols and conduct training. Follow a specific check-list for each project. Identify "drop zones." Make sure employees are trained and understand when not to be in these areas. Create visual and audible communication methods to avoid miscommunication between overhead and ground workers.
Prepare for emergencies. Response time is the most important factor in saving a life. Have emergency procedures in place and make sure each employee knows his or her role.
Falls are the most common cause of workplace injury and death. The Centers for Disease Control and Prevention (CDC) reported an average of 80 deaths per year in the tree care industry. Emilcott has over 25 years of experience helping clients establish and implement Fall Prevention Programs.