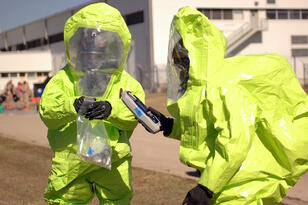 As a Certified Hazardous Materials Manager who has authored and reviewed 100s of Site-specific Health and Safety Plans per year, I can assure you—they are not at all cut from the same cloth! I find that particularly curious, because a SSHASP should meet a list of required elements. My experience tells me that a SSHASP that is not put together properly can result in project delays as the SSHASP is subjected to reviews and comments by the entities involved in the project. If a poor SSHASP is put into play, it can be reused over and over again —just with a new location and new names.
Per the Department of Labor website, OSHA conducts inspections of hazardous waste site activities. During these inspections, deficiencies in written Health and Safety Plans (HASP) are commonly found. These deficiencies generally indicate a lack of knowledge and/or understanding of the required content of the HASP. The most consistent deficiency is a lack of site-specificity in the plans.
Many people believe that the SSHASP is simply a document required by OSHA and those in charge of the project--reviewed with the crew on the first day of the project and then put away in the job trailer. Many fail to see the importance of this document in providing vital health and safety information to workers on a construction or remediation project. A properly written SSHASP addresses safety concerns associated with the project site, the tasks that will be performed and outlines the means that will be used to minimize the safety concerns. A SSHASP should be viewed as a document that is of equal importance to the Work Plan—as incidents and accidents do happen!
The use of Boiler Plate SSHASPs and the practice of editing (sometimes many times) a previously used SSHASP are some of the underlying reasons why SSHASPs are not taken seriously. But a SSHASP that is written with the same care as an environmental assessment, Work Plan, or engineering assessment can be a tool that is used to ensure the health and safety success of your project.
by: Dian Cucchisi, CHMM, Ph.D
Check out the FREE E-BOOK, Top 10 Things Needed in a Site-Specific Health and Safety Plan below to help guide you through the process!