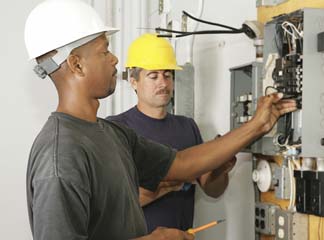 This April OSHA updated its 40-year-old electric power construction standard rule to be more consistent with the corresponding general industry standard (last updated in 1994), to better protect workers performing electric power generation, transmission and distribution work. OSHA's Assistant Secretary of Labor Dr. David Michaels explained, "This long-overdue update will save nearly 20 lives and prevent 118 serious injuries annually." The new standards are far-reaching since they apply to all in the construction sector. Here's a summary of the main implications of this new rule, most of which will take effect this summer unless noted otherwise.
Highlights of the Rule
Employers must make reasonable estimates of incident energy. (This requirement takes effect January 1, 2015.)
The outer layer of clothing worn by an employee must be flame-resistant when the estimated incident heat energy is greater than 2.0/cm2. Employers must provide the protective clothing at their expense. (Compliance is not required until April 1, 2015.)
The rule includes provisions to protect other workers from getting too close to energized lines, including new approach-distance standards. Any employee exposed to the potential danger of an electric arc must wear arc-rated protective clothing.
Workers using aerial lifts must wear a fall harness instead of a body belt.
Face and head protection must be provided for employees in certain environments. For example, employees performing energized work in an enclosed space or when the work involves exposure to three-phase arcs must wear face and head gear.
Incidents Were the Catalysts
OSHA gave specific examples to explain why the new standards were necessary. One involved an electric utility worker installing replacement batteries in a substation. A battery cable fell onto the terminal, producing an electrical arc that resulted in second and third-degree burns. The employee required several surgeries and a prolonged hospital stay. A second tragic incident involved a power line worker that was moving his aerial lift platform away from a utility pole. A tractor-trailer hit the aerial lift truck, causing the worker to fall. Sadly, he died from his injuries.
Tightening industry standards is necessary to keep employees safe. However, compliance can be challenging. The detailed document from OSHA discussing this new rule is over 1500 pages. At
Emilcott
, we understand the challenge of compliance. Our professionals have over 25 years of experience helping companies across business sectors protect their employees and remain compliant with federal and state standards.