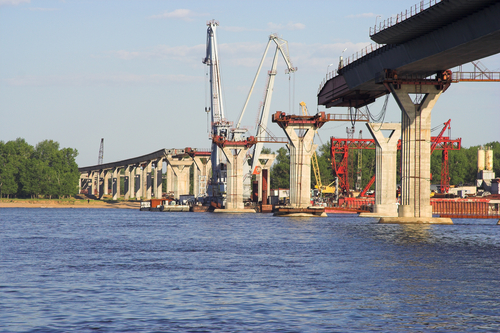 Construction of the New NY Bridge, which began in July 2013, is vigilantly attended by eleven state-of-the-art environmental monitoring stations that continually measure dust and particle emissions, noise, and vibration levels. These real-time stations also read wind speed and direction to give exact information of where dust and particle emissions are heading or coming from, helping engineers and construction managers initiate controls. The data, which is gathered 24/7 and recorded daily, is immediately available on smartphones, tablets, and laptop computers for project personnel to analyzed and to ensure worker and public safety.
But two unique and important features distinguish the environmental monitoring at the new Tappan Zee Bridge from previous technologies:
1) Gathering, reporting, and reacting to data in real-time, and
2) Posting data every 30 minutes on a secure and public website
The public can review daily reports via a special website established by the Tappan Zee Constructors, LLC. (TZC) - http://newnybridgegallery.com.
Making data readily and widely available has many benefits—it enables project personnel to identify and correct problems when they arise, which helps preempt bigger issues from developing. In addition, project personnel who are receiving continuous air monitoring updates can help ensure the safety of workers and local residents by reacting to issues during rather than after the project—an approach that can help prevent potential construction-related health issues months and years after project completion. Preventing potential hazardous problems from arising or worsening is also fundamental to keeping a construction project on schedule, which can save time and money.
Real-time date reporting is essential for transparency (a trend which has become a public demand) is central to developing trust between contractors, local governments, and residents who live near construction sites. It also helps give residents the peace of mind to know they can share in and react to details about the safety of a project.
Construction of the replacement of the Tappan Zee Bridge is one among select projects using the latest technologies for real-time reporting that have changed environmental monitoring from an "after-the-fact" process to an effective, prevention tool. In addition to being considered the best approach for monitoring the environmental air quality in and around the New NY Bridge construction, real-time environmental monitoring and reporting is rapidly becoming the standard practice for all major construction projects.