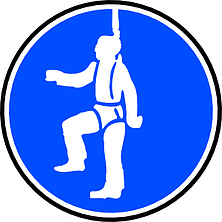 As a construction safety manager I have more than once run into the issue of a client representative informing me that fall protection would be needed around a trench and/or excavation. However, this is not necessarily true.
OSHA requires that fall protection be provided at elevations (with unprotected edges) of four feet in general industry workplaces, five feet in shipyards, six feet in the construction industry, and eight feet in long shoring operations. OSHA requires that fall protection be provided when working over dangerous equipment and machinery, regardless of the fall distance. But OSHA does not require fall protection around excavations or trenches unless there exists the additional hazard of a barrier that hides the excavation or trench from plain view. CFR 1926.501(b)(7) provides: (i) Each employee at the edge of an excavation 6 feet (1.8m) or more in depth shall be protected from falling by guardrail systems, fences, or barricades when the excavations are not readily seen because of plant growth or other visual barrier.
What's more, a controlled access zone (use of a fence or barricade) is not an acceptable means of providing fall protection, except where employees are performing overhand bricklaying and related work; or as part of a fall protection plan for leading edge work. So keeping the workers around the trench six feet back from the leading edge of the excavation, which has been suggested to me more than once, is an unacceptable solution when fall protection is otherwise required for worker safety.
If you are considering a protective railing system, consider one that clips onto shoring boxes. This fall protection system consists of a pair of rails and a fall protection post. The rails are adjustable in width from four to six feet, and must be used within those ranges. The posts must be secured to the top of a slide rail panel or trench shield. The system is designed to withstand a 300 pound load at any point on the system; thus a 300 pound load could be supported anywhere onto the system.
It is considered a best practice to install railing around your excavations or trenches for crowded work areas—particularly with trades not familiar with working around trenches or excavations. However, sometimes it is not feasible to install railings—for instance working is the street where road plates are required to be replaced at the end of every work day.
Emilcott can help guide you through the maze of the OSHA Fall Protection Standard. The differences between the different industry requirements can be very confusing. Our expert guidance can help you determine when and where fall protection is needed, and what would be the best choices for your particular operation.
by Jon Quatermas, CHST