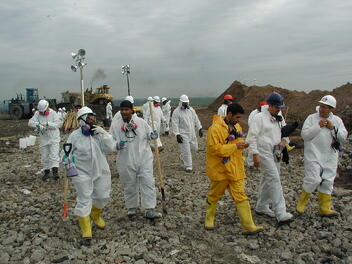 The New York Times reporter Anthony DePalma did an excellent job in stressing the importance of a ensuring the proper use and proper fit of respiratory protection in his article of 9/9/2013, Improving Respirator Masks to Put Fresh Air in Reach. He discussed the need for improving the design of these masks, particularly so that they fit more universally, therefore making them even more effective or "user friendly", and ultimately more protective for those who need to wear this equipment while working in hazardous environments.
Acknowledging the anniversary of September 11th, Mr. DePalma discussed how respirator technology (or bad respirator engineering) was a primary cause of misuse and lack of use of these devices by those involved with the 9 month recovery operation at Ground Zero . This is where I strongly disagree with Mr. DePalma.
Two weeks after September 11, 2001 Emilcott was asked by the NYPD Detectives Union to conduct a health and safety audit of the recovery operation at the Fresh Kills Landfill where WTC debris was transported to be "raked" by police personnel—mostly plain clothes detectives. We found that there was adequate, effective respiratory equipment (masks) available for the people performing the tasks on this site. However, there was a complete absence of proper training on how to use the masks, a total lack of proper fitting of the masks to each user, an acceptance of people wearing respirators with facial hair, and, most importantly, a total lack of leadership from management and supervision to ensure (or command) that all must comply to the requirements of proper use of these respirator masks. These four items were immediately addressed at the Fresh Kills operation—making this operation safe for the workers at this part of the recovery.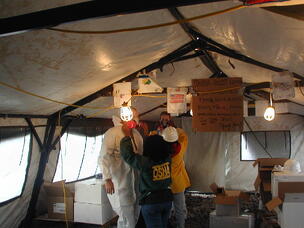 Emilcott's preliminary report of findings at Fresh Kills continues to be cited as a guidance document of what should have been done at Ground Zero, and was specifically referenced in a 2007 Congressional Hearing of the EPA's lessons learned. Unfortunately the operations at Ground Zero lacked the unequivocal leadership needed to ensure compliance with wearing respiratory masks as everyone rushed in to rescue and recover. Even more tragically, this lack of leadership never corrected itself to the level needed to ensure proper use of respirator masks as the months wore on. While we applaud the direction respirator manufacturers are taking to make masks easier to wear—even 12 years after 9/11—they still need to be worn correctly to work and this must be taught and enforced. Respirator technology did not cause the lack of compliance with proper use of these masks on this site. It was an old fashion breakdown of the project management system.
by: Bruce D. Groves, CIH, President

(video credit: NYTimes.com)