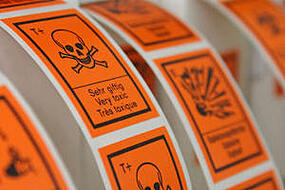 On March 27, 2013, EPA announced the list of 23 chemicals it will begin assessing in 2013, including 20 flame retardant chemicals.
Chemicals EPA Plans to Begin Assessing in 2013
March 27, 2013 - EPA announced the chemicals it will begin assessing in 2013. These include 20 flame retardant chemicals and three other chemicals - Octamethylcyclotetrasiloxane (D4),
1-Bromopropane, and 1,4-Dioxane. EPA also made public its Plans for 2013 Assessments, which outlines the agency's process for identifying these chemicals and the approach for assessment. Read the press release.
Flame retardant chemicals are used in a wide array of products including furniture, textiles, and electronic equipment. Some of these chemicals can persist in the environment, bioaccumulate in people and animals, and have been shown to cause adverse developmental effects in animals. Most of these chemicals have never been assessed for safety. EPA's efforts to assess flame retardant chemicals in order to more fully understand their potential risks is part of the agency's ongoing effort to address these chemicals and identify safer alternatives. Get additional information on efforts already underway for PBDE flame retardants. Also get information on EPA's Design for the Environment (DfE) alternatives assessments for the DecaBDE flame retardants.
EPA will conduct a full risk assessment for four of the 20 flame retardants that have sufficient data, three of which are on the TSCA Work Plan and one that was the subject of an Action Plan developed under TSCA. The chemicals are:
2-Ethylhexyl ester 2,3,4,5- tetrabromobenzoate (TBB)
1,2- Ethylhexyl 3,4,5,6-tetrabromo-benzenedicarboxylate or (2-ethylhexyl)-3,4,5,6 tetrabromophthalate (TBPH)
Tris(2-chloroethyl) phosphate (TCEP)
Hexabromocyclododecane (HBCD)
Octamethylcyclotetrasiloxane is referred to as "D4" and is used in the manufacture of silicone polymers and copolymers. D4 is also used in personal care products, such as hair and skin care products and antiperspirants. D4 is also used as a defoamer (pulp and paper, food, petrochemical, petroleum, chemical manufacture and water treatment)
1-Bromopropane (1-BP) is a solvent widely used as a substitute for ozone-depleting chlorofluorocarbons and other regulated compounds. 1-BP is used in multiple manufacturing processes, including vapor and immersion degreasing operations to clean electronics and metal and as a solvent vehicle in industries using aerosol applied adhesives such as foam cushion manufacturing. In some states, 1-BP is now being used as an alternative to perchlorinated solvents within the dry cleaning industry .
1,4-Dioxane is used as a solvent for cellulose acetate, ethyl cellulose, benzyl cellulose, resins, oils, waxes, and fats; in spectroscopic and photometric measurements; and in the pulping of wood. It is also used as a wetting and dispersing agent in textile processing, a degreasing agent, a polymerization catalyst, and a component of polishing compositions, dye baths, lacquers, paints, varnishes, stains, printing compositions, and paint and varnish removers. 1,4-Dioxane is a trace contaminant of some chemicals used in cosmetics, detergents, and shampoos.