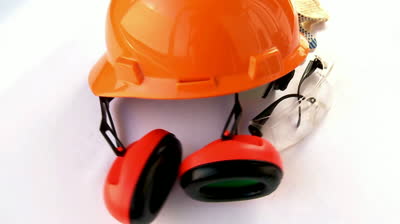 We are keeping those Field Tested Personal Protective Equipment (PPE) recommendations coming! Here is our third installment—again, all field tested and used by EHS professionals.
My Top 5 Favorite PPE by Charles Peruffo, EHS Consultant
Chuck spends his days both indoors and out, depending on his assignment. He can be found providing oversight at a construction site with considerable ground contaminations, inside a hospital overseeing infrastructure improvements, or providing general EHS consulting at research facilities. Chuck has had his Personal Protective Equipment (PPE) tested on the job! And he has done his homework, providing insider tips on keeping your Personal Protective Equipment (PPE) in top working condition. Here's his top five:
My favorite Field Tested Personal Protective Equipment (PPE) by far is my hardhat. It is a MSA Skullgard full brim hardhat in white, but is available in custom colors. It has saved me from so many bumps that I have lost count. The Skullgard line is heat and fire resistant thanks to its fiberglass construction, which also makes them slightly lighter than their plastic counter parts. Collecting equipment from the office of civil defense is a hobby of mine. The Skullgard resembles the civil defense helmets of years past and fits right in with my collection of Geiger counters and radiation dosimeters. Most importantly the hardhat was a gift from a loved one at the start of my new career with Emilcott.

While I love my hardhat, I wouldn't take it on vacation with me. I would, however, take my Wiley X safety glasses. Wiley X first became known to me through my friends in law enforcement. The curved lenses allow for full eye protection without the need for clip on side shields that cut off peripheral vision. I have been asked more than once to show the Z87 rating inside the frame—they just don't look like safety glasses.

I ran a safety shoe program for several years. I have bought hundreds of safety shoes. Redwing boots are the highest quality you will find. The 2240 is the classic work boot with a roomy composite safety toe. The 2260 is an insulated, composite toe boot that is warm and comfortable in the winter. Be sure to try them on with your thick winter socks on. The services that come with a pair of Redwing boots are excellent. Redwing stores will replace your laces, clean and oil your boots free of charge—ensuring that you get the most from your boots.

If you plan to work outside for any amount of time, invest in a breathable raincoat. Gortex is the name brand, but the key word to look for is breathable. Many people don't that the water repellent finish on Gortex coats wears off after a year or so. ReviveX by McNett works well to restore the coat. Unlike Gortex, PVC rainwear is not breathable and will trap moisture inside it and you will wind up cold and wet. A high-visibility (high-vis) raincoat is very handy, but beware of reversible coats popular with law enforcement. These basically put the moisture repellent surface against your body—you might as well be wearing PVC at that point. Occunomix and VEA make inexpensive, breathable industrial rainwear.

A lab coat can be an essential piece of Personal Protective Equipment (PPE). My lab coats have saved me from a number of chemical burns over the years. In one accident I found myself dowsed in a solution of corrosives and ether. Having the extra layer of clothing to remove was helpful and saved me from injury.

If you are an employer interested in purchasing Personal Protective Equipment (PPE) we have some great information to help you get started!