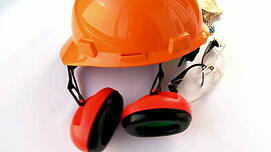 As promised, the staff at Emilcott is sharing their Top 5 Favorite Personal Protective Equipment (PPE) over the next few weeks or so, and these are field tested by EHS professionals, so the recommendations hold a little water.
Or, in some cases they actually repel water to keep you dry!
My Top 5 Favorite Personal Protective Equipment (PPE) from Matt Decker, Environmental Monitoring Operations Technician.
Matt spends time indoors and out. He also needs to work with a variety of hand tools. In a previous job, he worked around some fairly large construction equipment.
For Matt, comfort is a high priority which makes sense as you are more likely to wear Personal Protective Equipment (PPE) if it fits well.
That is something to be considered when dispensing Personal Protective Equipment (PPE) for a group of employees. Here's what he has to recommend.
Timberland Pro Series 6" Steel Toed Boots. The most important thing (to me) is comfortable boots. If you are on your feet all day, you have to have boots that won't hurt your feet and back. I like these best and they don't cost too much.

Clear Safety Glasses. Any brand will do. Everyone wears the tinted ones. They are good for the daytime and help protect your eyes from the sun, but we often work in poor lighting or before and after sunrise/sunset and the tinted ones just make everything darker. I recommend that everyone have clear safety glasses, too.

Hard Hat. Any manufacturer will work. There are many styles so pick ones that is comfortable to you. Some are more expensive than others, but it's something you wear all day so make sure it's comfortable.

High Viz Vest with Pockets. I like the 3M Scotchlite vests. I like a zipper in the front and the pockets are a must. We carry field books and pens and it's nice if you don't have to have them in your hands all day. The vest is comfortable and it is easy to wear layers under it in cold weather.


High Viz Rain Coat. I also have the 3M rain coat. I went with a duster style because I don't like rain pants. Whenever you put them on, you stick your dirty boot thru them and get the dirt all over your clothes. The coat goes down passed my knees and is warm. It's also nice that it's high viz and I don't have to wear any additional vest.
If you are an employer interested in purchasing Personal Protective Equipment (PPE) we have some great information to help you get started!