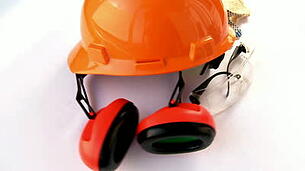 We all like to use the beginning of a new year to take stock and evaluate the effectiveness of those things we do! It just lends itself to asking "Why?" and "Is there a better way?". So—maybe you are doing that with your own personal protective equipment (PPE), or even the effectiveness of your program at work. Maybe we can help!
Our EHS consulting staff not only recommends PPE—they have to wear it. So I asked them to weigh in on their top 5 favorite PPE including brands, if they were so inspired. The results are in and we will be sharing them over the next month or so.
My Top 5 Favorite PPE from Daniel Senatus, EHS Consultant
Dan spends a good amount of his time outdoors overseeing some fairly active construction and hazwaste clean-up operations. He trains and has served in the military—so he knows PPE! Here's what he has to say.
"Let's face it, if you're going to be out there in the elements, you might as well be comfortable."
1) I love the tan full brim MSA Tan Skullgard Hard Hat with Staz-On Suspension and Full Brim, its carbon fiber so this hat is harder and lighter than the plastic types. View Here

2) Red Wing 6" waterproof with the composite toe guard work boots. Reportedly, this is a lot more comfortable to spend ten hours in and its water proof. View Here
3) Dewalt DPG55-11C Clear/tinted Anti-Fog Protective Safety Glasses. View Here
4) Occunomix Value Mesh Surveyor break away Vest- This vest has pockets and it can easily be torn in an emergency. View Here
5) Under armour UA Run Storm gloves. They're warm, waterproof and repel water without sacrificing breathability or dexterity. View Here
For more information on Personal Protective Equipment (PPE) and a Guideline for Purchasing PPE, check out our FREE E-Book!