By Chuck Peruffo
It was a few days before Christmas and I was working outdoors as an Industrial Hygiene Technician on a construction project. This is the first time in my life I have worked at such cold temperatures as I have been a Lab Rat most of my career. Not being "climate adjusted", I was bundled up like Ralphie's little brother, Randy, from
A Christmas Story
. As I kept one eye on my meters and the other eye trained on the excavator in front of me, the wind started to pick up. The clouds of dust coming off the road shouted "dust control needed" even before I checked the numbers on the dust monitors.
Dust control is an important way to keep what's in the ground out of the air and out of your lungs. The standard method for controlling dust is to spray water on the ground. This practice works fine until your water truck freezes solid. So, what do you do when Jack Frost is nipping at your nose
and
the dust is flying in the air? Your solution for dust control is to make up a solution of water and a chemical such as magnesium chloride hexahydrate ("Mag flake").
Mag flake or Mag brine has long been used to control dust on rural roads. Mag flake can be mixed directly into your water truck. A bit of a disclaimer: although Mag brine is less corrosive that sodium chloride, make sure the water truck tank vessel can handle the solution by noting the material of manufacture and then consulting a corrosion guide. And, it is good practice to flush the tank truck with clean water after use.
Some manufacturers sell Mag brine at up to a 33% solution for dust control. That translates into more than 2 ½ tons of Magnesium Chloride in a 2000 gallon water truck which is fine for dust control on rural roads that aren't sprayed often but may be too concentrated for a construction site application.
At
Emilcott
, we have found a solution to meet the challenge of frozen water. Roughly, a 50 pound bag of magnesium chloride added to a 2000 gallon water truck lowers the freezing temperature by 0.3°F. So, to have a liquid wetting agent for effective dust control when the temperature is around 25°F, we add 1500 pounds of magnesium chloride into a 2000 gallon water truck or about a 0.9% Mag brine solution. And, now we have our "solution" to keep the dust out of the air!
Here's the formula and factors Emilcott uses to determine how much magnesium chloride we need to add to the water truck to get the right, wet solution:
∆T = i * Kf * m
∆T = the change of freezing temperature you want in °C
i = the number of ions magnesium chloride makes in solution
Kf = the freezing point depression constant for water is -1.858 °C·kg/mol
m = the concentration of our solution in moles/liter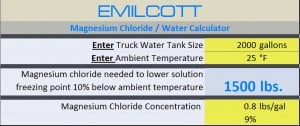 And we've put this head-scratching math into a quick, handy Excel spreadsheet that requires two inputs (truck tank size and ambient temperature) so that we can modify our calculations on the fly throughout the winter.
If you'd like a copy of this prepared spreadsheet, just drop us an email and we'll send it right to you.
With the correct amount of magnesium chloride added to your water truck, your wetting agent will continue to provide dust control all winter long. What is your solution for managing dust control at sub-freezing temperatures? How do you modify your practice as the day's temperature fluctuates?