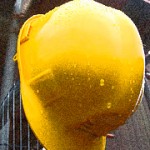 by Paula Kaufmann
In 2010, 782,000 students nationwide attended OSHA Outreach Training courses with an 11% increase in students attending the
10-hr Construction Industry Training
-- the highest attendance of all courses offered. What is the driving force for the high and rising class attendance? Bids for construction projects with both public and private funding now require that employees of contracting companies complete and pass the OSHA Outreach in Construction courses to reduce project liability and cost.
What is Construction Industry Outreach Training?
The OSHA Outreach Training Program for the Construction Industry teaches construction workers how to identify safety and health hazards and how to avoid and prevent these hazards and injuries with the "
Focus Four Hazards
" of falls, caught-in or between, struck-by, and electrocution. The training also covers workers' rights to a safe workplace, employer responsibilities, and how to file a complaint to OSHA. The Standards applicable to the Construction Industry are contained in Section 29 of the Code of Regulations, Part 1926.
Who Should Attend a 10-hour Construction Industry Training Course?
Workers must complete the OSHA 10-hr Construction Industry Training Course to work on any publicly-funded construction project in Connecticut, Massachusetts, Missouri, Nevada, New Hampshire, New York, and Rhode Island. Nevada also requires those with supervisory or safety responsibilities complete the 30-hr course.
Many private companies are adding this training to their bid requirements as well! Why? This course is an excellent introduction to health and safety programs for workers new to construction or when it is time to create a paradigm shift in attitudes about safety. Although the OSHA 10-hour Construction Industry course is designed for entry-level construction workers, many organizations include ALL their site personnel in this training because EVERYONE is responsible for safety.
OSHA, government and private contractors, and insurance providers recognize the completion card as an indication of the importance of safety and health for both the individual and the organization. In fact, Workers' Compensation insurance providers often will reduce rates for companies that recognize training as part of their Health and Safety Program and include this essential training to their staff.
Emilcott's OSHA 10-Hour Construction Industry Course
Based on the requirements established by OSHA, Emilcott's 10-hour Construction course provides important information about the recognition, avoidance, abatement, and prevention of safety and health hazards in workplaces in the construction industry. This training assumes no prior training nor requires any prerequisite training.
Much of the Emilcott Training Institute's 10-hr Construction Industry course is interactive and hands-on
to ensure that key health and safety concepts are retained
.
More importantly,
our courses are taught by instructors with real-world experience
. Credentials and certifications provide a way to verify competency in particular fields but real-world experience should not be discounted. It's one thing to talk about trenching hazards, it's quite another to actually work around them. This experience allows Emilcott trainers to put the material in perspective and help students make the connection between theory and practice.
Quality Training Makes a Difference
With twenty-five years of consulting experience with all types of companies, projects, work sites and hazards, we universally find that the
OSHA Outreach Courses for both Construction and General Industry
help everyone at the site "get it" when it comes to site safety! When part of an implemented Health and Safety Plan, the education provided by quality OSHA Outreach courses has helped our clients reduce their accident incident rates AND insurance rates!
Do you have examples of the OSHA Outreach Training raising the bar of safety at your site? Is there something you've learned in an OSHA Outreach Training Course (Construction or General Industry) that has helped you on the job?