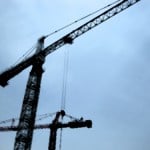 by Paula Kaufmann
Has anyone ever asked you why OSHA requires extensive procedure and safety control training for crane operators and assistants? What about why is it really necessary to take time to provide crane safety awareness training to workers working "around cranes"
even though it is not required by OSHA?
Well, READ THESE recent news headlines (and follow the links for more information)!
Failure to secure crane properly before leaving the site for at the end of the workday. (March 26, 2010)
A cable snapped, the hydraulic boom pinned him against the vehicle. (August 24, 2009)
Worker's safety harness was not secured, and a safety railing was missing from the work platform. (September 4, 2008)
Failure to provide the crane operator with specific training on the crane's operation, controls, load charts and safety devices. (July 18, 2008)
A construction worker was killed when he was knocked off a small crane after a large truck hit it, the police said. The worker fell about 15 feet to the ground. (July 16, 2008)
The arm of a mobile construction crane came loose. (June 8, 2008)
The boom — the long arm that hoists materials onto the building's newly laid concrete slabs — snapped off its turntable, the platter-like platform that holds the cab for the operator. (May 30, 2008)
Failure to inspect the nylon slings and notice pre-existing cuts and snags, to follow the crane manufacturer's specifications when raising the crane, to use padding to protect the slings from the sharp edges of the crane part. (March 16, 2008)
Everyone working in an area where cranes are in use will benefit from occupational safety awareness training. Preventing injury and fatalities is the prime purpose; however, there are some significant financial considerations to improving crane safety:


damage to the project or nearby buildings


harm to the public and other liabilities


work stoppage (short-term or extended)


Interested in improving the safety at your worksite or protecting yourself?
Look around for a crane safety course that applies to your work site or particular type of equipment or project.
Emilcott offers a 2-Hour Crane Safety and Heavy Equipment Safety Awareness course that covers key information for those working around this type of equipment.
This course is also available as an on-site course for employers who are interested in site-wide safety awareness. Got cranes? Stay out of the news with an
awareness course
that keeps workers safe and projects progressing!
Have any crane or construction equipment stories or headlines to share? Or perhaps a story that could have been a headline but was prevented by some really great health and safety training?