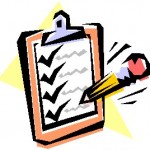 The Office of Management and Budget received the final rule update for the Hazard Communication Standard (1910.1200) on 10/25/11. The 90 day review period is over but the review period has been recently extended.
There is no notice of the length of the extension
and it should be noted that OMB has had the OSHA proposed Occupational Exposure to Crystalline Silica Standard for nearly a year, since 2/14/11, and it is still listed as having an extended review period.
You can view the rule at
HERE
One of the changes is the inclusion of an "Unclassified Hazards" category
; a definition is provided below. The U.S. Chemical Safety Board recently released a statement supporting the Unclassified Hazard category to allow for inclusion of combustible dust hazards on safety data sheets and labeling.
"Unclassified hazard" means a chemical for which there is scientific evidence identified during the classification process that it may pose an adverse physical or health effect when present in a workplace under normal conditions of use or in a foreseeable emergency, but the evidence does not currently meet the specified criteria for physical or health hazard classification in this section.
This does not include adverse physical and health effects for which there is a hazard class addressed in this section.
It should also be noted that EPA began to make amendments in November of last year to regulations for the "Protection in the Workplace" (40 CFR 721.63) and "Hazard Communication Program" (40 CFR 721.72) components of the Significant New Uses of Chemical Substances regulations at 40 CFR 721 to align them with the GHS changes in the OSHA Hazard Communications Standard.