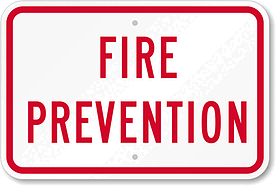 Inspect & Test Your Fire Alarm Systems
To ensure your system will operate properly in the event of a fire, conducting routine maintenance and testing is extremely important. Your local building department, and local fire inspectors, as well as your insurance carrier may require testing. Without documented proof of fire alarm system inspection & testing, your insurance carrier may reject any claims.
Reduce chances of having system false alarms, which could put other lives in danger by unnecessarily diverting fire department resources to your location instead of an active fire. It is a requirement of the National Fire Alarm Code (NFPA 72). Refer to NFPA 72 for complete list of fire alarm system devices, test frequencies, and procedures
Portable Fire Extinguishers
Do employers have to provide portable fire extinguishers? No. But if you do, you must establish an educational program to familiarize your workers with the general principles of fire extinguisher use. If you expect your workers to use portable fire extinguishers, you must provide hands-on training in using this equipment. For details, see 29 CFR Part 1910 Subpart L.
Exit Routes & Exits
The purpose of the exit route is to reach an exit. Signs along the exit route indicate the direction of travel to the nearest exit. The exit routes cannot lead employees toward a dead end, or through a room that can be locked. Exit routes must be kept free of obstructing material or equipment, and xit routes must have adequate lighting
Download our FREE FIRE PREPARATION CHECKLIST to ensure that you are doing what it takes to prevent a fire!