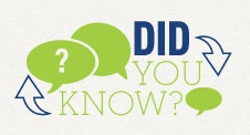 Last month the EPA released two final Alternatives Assessment Reports for the flame retardants Decabromodiphenly Ether (DecaBDE) and Bisphenol-A (BPA) in thermal paper. These comprehensive assessments were developed with public participation under EPA's Design for the Environment (DfE) program and profile the environmental and human health hazards for DecaBDE, BPA, and their alternatives.
EPA's Design for the Environment (DfE) works in collaboration with industry, academia and environmental groups to reduce risk to human health and the environment by finding ways to prevent pollution. For over 15 years, through partnership projects, DfE has evaluated human health and environmental concerns associated with traditional and alternative chemicals and processes in a range of industries—focusing on industries that combine the potential for chemical risk reduction with a strong motivation to make lasting, positive changes. The DfE partnership analyses have enabled hundreds of businesses to select safer chemicals and technologies.
Under its Existing Chemical Management Program, EPA issued an action plan for polybrominated diphenyl ethers (PBDEs), calling for DfE to convene a multi-stakeholder alternatives assessment for decaBDE to help decision makers choose safer alternatives to decaBDE. An action plan for BPA was enacted in 2010.
EPA is concerned that certain polybrominated diphenyl ethers (PBDEs) are persistent, bioaccumulative, and toxic to both humans and the environment. This concern extends to decaBDE, which breaks down into other PBDE congeners. Various PBDEs have been studied for ecotoxicity in mammals, birds, fish, and invertebrates. In some cases, current levels of PBDE exposure for wildlife may be at or near adverse effect levels.
Human exposure to decaBDE can occur through occupations that manufacture flame retardants used in electronics, vehicles, textiles, and building materials. The U.S. manufacturers of DecaBDE committed to phase-out production of the chemical by December 2013. The final DfE Alternatives Assessment Report on DecaBDE profiles 29 alternatives, including some predicted to be safer than DecaBDE. This report is part of a broader agency effort to address flame retardant chemicals.
BPA is used as a building block for plastics and to develop images on thermal paper, which is used in printed retail receipts, and in many other applications, such as airline and movie tickets. EPA's final BPA DfE Alternatives Assessment includes a review of 19 chemicals that may be used as heat-activated "developers" in thermal paper. The assessment found that there were trade-offs with respect to human health or environmental safety for all of the possible alternatives.