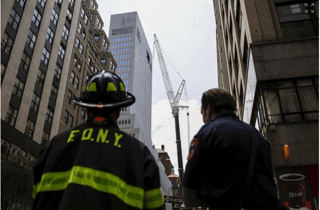 Due to the increasing number of deaths taking place on construction sites, city investigators are showing up undercover at jobsites and arresting workers that are using fake safety training cards, according to the Daily News.
The U.S. Occupational Safety & Health Administration (OSHA) has required workers to take approved safety courses to reduce the number of injuries and fatalities at job sites. However, in recent years, there has been an increasing issue with workers ignoring the requirement to take these safety courses and instead, using fraudulent safety cards claiming they have been trained.
Since the beginning of 2015, more than 20 workers with these fake cards have been arrested at various different construction sites in New York City.
This sweeping investigation, which is being carried out by the Department of Investigation and the Buildings Department, is a result of the fact that in that last federal fiscal year, the number of construction fatalities in New York City has jumped from 12 to 18.
The most recent arrest was on October 17 with five workers arrested from two sites and forced to leave the jobsite where apartments are being built in Queens and the Bronx. The five workers were arrested by members of the DOI, the Buildings Department and NYPD detectives for having what investigators say are fake OSHA cards. On top of this, another 19 workers were taken off the same two job sites because they did not have any OSHA or safety training cards at all.
According to a buildings department spokesperson, over the last 18 months "numerous inspectors from the Scaffolding Safety unit visited various sites where they identified carrying OSHA and scaffolding training cards that appeared fraudulent." These events were passed on to the DOI which "made arrests when necessary."
Mark Peters, the DOI Commissioner, declined comments on this current, ongoing investigation.
One of the two sites is part of Mayor de Blasio's campaign to save or build 200,000 inexpensive units in 10 years. The site is located on 280 East Burnside Ave in the Bronx. It will include 40 apartments subsidized by taxpayers through the city Housing Preservation and Development Department.
On October 17, officials reported that two workers were each charged with two counts of having a forged instrument. One of the workers also had a fake driver's license.
Safety issues have always been a main concern on the Bronx site. The Buildings Department had to shut the site down on two occasions, starting in December 2014 after finding that the contractors were working without having a safety plan for the site. After this shut down, contractor Walison Corp. had a site safety manager put on the site to supervise. By January 2015, the manager reported that a worker fell 4 feet off a ladder.
The department shut down the site again on September 21, 2015, after finding from reports submitted to the city, that work was not being performed.
On Friday, when probed by the Daily News, a Walison employee declined comment. An HPD spokesperson said that they "perform routine monitoring of construction sites" and if they find "deviations" they "require that the parties address and rectify issues of non-compliance."
That same weekend, three workers were arrested for having fraudulent OSHA cards at a jobsite in Queens, where a 28-story housing building is being built.
Contractors are saying that there is a recent drop in the number of qualified site safety managers. Mike Arvaites, the president of a trade group representing safety officers, said that he has been pressuring the Buildings Department to expedite the approval of trained managers seeking such licenses.
Alexander Schnell, an agency spokesperson, said that the "total universe" of site safety applicants in 2013 and 2014 was 102, he also reported that since then 31 have been approved. He continued that "the remaining ones didn't pass the examination or were not granted approval for other reasons based upon lack of qualification." Schnell also reported that by September, 26 of the applicants were under review for approval because thy passed their qualification tests. Only seven of those 26 had been waiting for more than six months.
Update: Thousands of Construction Workers Rally for Safety Protections Downtown
Written by: Gina Mogavero & Paula Kaufmann.